Slab Thickness: 2-3/4 inches. Available with and without transom in two options: TR-EN1 (37-1/2 x 18 inches) and TR-EN3 (37-1/2 x 23 inches).
•
Mahogany Wood
•
Furniture Quality Finish
•
Double Insulated, Beveled Glass
•
Aluminum Adjustable Threshold in Oil Rubbed Bronze Finish
•
Solid Wood Frame/Jamb
•
Brass Ball Bearing Hinges in Oil Rubbed Bronze Finish
•
Q-Lon Weather Strip Insulation
How To Measure Door
---
Hardware Suggested by Our Designers:
---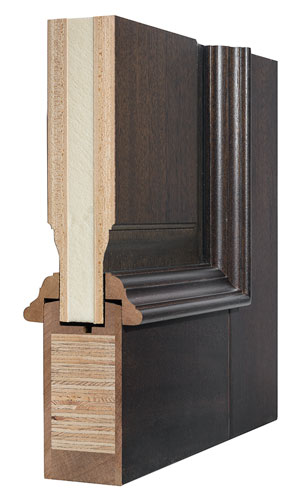 Solid (Euro Technology)
Raised Panel with Big Raised Molding
Stiles and rails made from solid wood pieces are finger-jointed and edge-glued, while the core of the panel is made of a rigid polystyrene. A real mahogany wood veneer completes the unit with the desired high-end look and feel of solid mahogany wood door. This Euro Technology provides excellent thermal performance, durability, and stability.
CUSTOM FRONT ENTRY DOORS
• SOLID WOOD •
CLASSIC COLLECTION
Traditional, Timeless, Complimentary, Entrance Doors & More
Just as the name states, our Classic Collection offers a selection of solid wood doors that have been praised and adored due to their ever-lasting elegance and archetypal design. Traditional doors are a industry standard as they range from designs such as two panel doors with elaborate raised moldings, to beautiful glass doors with leaded designs, providing a eternal beauty to the home. Classic designs are really where the elegance and richness of wood is best displayed, as the high-end wood grains and furniture quality stains are what really draws the eye. Classic Collection doors are door style that is long standing a perfect example of timeless quality that remains prized and valuable.